Indore: City bows to melody queen Lata Mangeshkar
Lata Mangeshkar:
Lata Mangeshkar:- The Queen of music, fondly called Didi, was born in Indore. After her father Pandit Deenanath Mangeshkar, a theatre actor and a classical singer died at his early stage, being the eldest, she took care of her family. When we hear her voice, it is so hard to believe that when she was struggling in the industry, her voice for rejected as it was the era of heavy voices and her voice is more on the subtle, soothing side. It is said that when she sang the song Aye Mere Watan ke logon, in front of Jawaharlal Nehru, it brought tears to his eyes.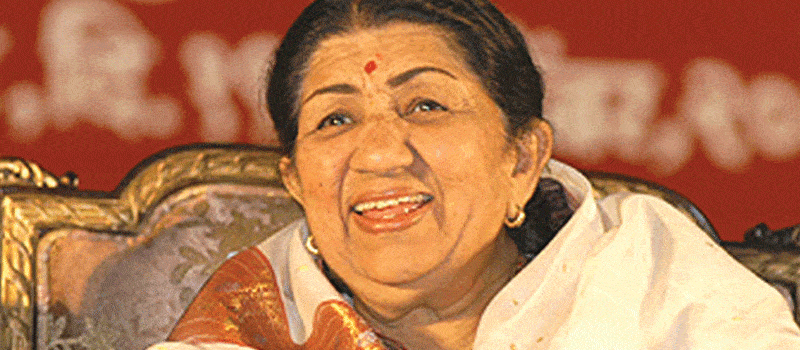 Date of Birth: 28 September 1929
Place of Birth: Indore, Madhya Pradesh
Parents: Deenanath Mangeshkar (Father) and Shevanti Mangeshkar (Mother)
Siblings: Meena Khadikar, Asha Bhosle, Usha Mangeshkar, Hridaynath Mangeshkar
Occupation: Playback Singer, Music Director, Producer
Religion: Hinduism
Start of Playback Singing Career: 1942
Total number of songs (approx): 50,000 in 36 languages
Nickname: Nightingale of India
Lata Mangeshkar:
Lata Mangeshkar is one of the best singers of the Hindi film industry. She is listed in the Guinness Book of World Records as the most recorded artist in the world. She started her started in 1942 and has spanned over seven decades. Lata is said to have recorded songs for over a thousand Hindi films. She also has the credit of having sung in over thirty-six regional Indian languages and foreign languages. Lata Mangeshkar is the elder sister of singers Asha Bhosle, Hridaynath Mangeshkar, Usha Mangeshkar and Meena Mangeshkar. She was honoured with India's highest award in cinema, the Dadasaheb Phalke Award, in 1989.
Childhood & Early Life:
Lata Mangeshkar was born on September 28, 1929 in Indore, Central Provinces (now Madhya Pradesh). She was the eldest daughter among the five children of Dinanatha and Shevanti Mangeshkar who belonged to a Maharashtrian Brahmin family. Dinanath hailed from the town of Mangeshi in Goa. He changed his last name from Haridkar to Mangeshkar in identify with his hometown. Her father Pandit Deenanath Mangeshkar was an accomplished classical singer and stage actor. Lata was initially named Hema when she was born, but later her father renamed her as Lata, inspired by a character in one of his plays. She had four siblings, three sisters, Meena, Asha and Usha; and one brother, Hridaynath. All five Mangeshkar siblings learned classical music from their father.
Career:
Tragedy struck the family in 1942 when Deenanath Mangeshkar succumbed to heart disease leaving behind a young family. His eldest daughter, Lata, who was just 13 years old at that time had to start working to fend for the family.

The first song that Lata sang was 'Naachu Yaa Gade' for the Marathi movie, 'Kiti Hasaal' in 1942. However the song was dropped from the final movie cut.

Her father's friend Master Vinayak gave the little girl a small role in the Marathi movie, 'Pahili Mangalaa-gaur' in 1942 in which she also sang a song.

Even though she started her career as a Marathi singer and actress little did people know that this young girl would one day grow up to dominate the music of Hindi filmdom. Incidentally, her first Hindi song was also from a Marathi movie in 1943. The song was "Mata Ek Sapoot Ki Duniya Badal De Tu" from the movie 'Gajaabhaau'.

She moved to Mumbai in 1945 along with Master Vinayak's company. During this time she also started taking classes in Hindustani Classical music from Ustad Amanat Ali Khan.

The death of Vinayak in 1948 left another void in Lata's life and her initial years in the Hindi film industry were a struggle. However, she scored her first hit with the song 'Aayega Aanewala' from the movie, "Mahal' in 1949.

The 1950s was a period of great success for the lady. They got the opportunity to sing songs composed by various music directors of those times like Anil Biswas, Shankar Jaikishan, S.D. Burman, Khayyam, etc.

A big turning point in her career was when she won a Filmfare Award for Best Female Playback Singer for the composition 'Aaja re Pardesi' from the film 'Madhumati' in 1958.

The 1960s began with a bang for the singer with the superhit song 'Pyar Kiya To Darna Kya' followed by another soulful number, 'Ajeeb Dastaan Hai Yeh' from 'Dil Apna Aur Preet Parai' the same year.

She might have already made her mark as a filmi singer, but when Lata sang the patriotic song, 'Aye Mere Watan Ke Logo' in the presence of Jawaharlal Nehru in 1963, she brought the then Prime Minister to tears.

The 1960s also marked the beginning of the association between the singer and the music directors. She would go on to sing over 700 songs over a period of 35 long years.

Mangeshkar's success continued over the 1970s and 1980s and she also branched out much into regional songs. Over this period she also gave many concerts and toured all around the world.
In the 1990s many new female singers had entered Bollywood yet no one could topple the reigning queen of voice of Hindi filmdom. She continued performing well into the new millennium, recording her first Hindi song with the Tamil composer, Ilaiyaraaja in 2001.
List of awards received by Lata Mangeshkar:
Dadasaheb Phalke Award
1990
Filmfare Award for Best Female Playback Singer
1970 · Aap Mujhe Achche Lagne Lage
Filmfare Lifetime Achievement Award
1994
National Film Award for Best Female Playback Singer
1991, 1975, 1973 · Lekin…, Kora Kagaz, Parichay
Filmfare Special Jury Award
1995 · Didi Tera Devar Deewana
Zee Cine Award for Best Playback Singer – Female
1998 · Dil To Pagal Hai (Dil To Pagal Hai, 1997)
International Viewer's Choice Award for MTV India
1998 · Dil To Pagal Hai
IIFA Lifetime Achievement Award
2000
Zee Cine Award for Lifetime Achievement
1999
Special Lifetime Achievement Award
2008
Filmfare Award for Best Playback Singer
1966, 1963, 1959 · Tumhin Mere Mandir, Kahin Deep Jale Kahin Dil, Aaja Re Pardesi