Indore Entertainment || Cinema, Malls, Festivals || Midnight Food In Indore.
Indore Entertainment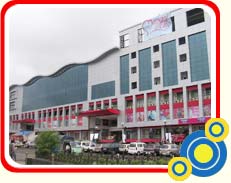 Entertainment has become a necessity in the cities, today. The busy and stressful lifestyle gives people little time to enjoy and relax. In such a situation, the various means of entertainment come to rescue. Indore is equipped with places like malls and cinema halls to provide relief from all the worries and tensions. These options are very viable and facilitate people to steal time from their work, for pleasure. Tourists coming to the Indore city of India can also avail the opportunity and entertain themselves completely.
Cinema:
Cinema is the most popular medium of entertainment in Indore as well as in the whole country. Owing to the fact that Indians are great cinema lovers. Bollywood has emerged out to be one of the biggest film industries in the world. Indian cinema is quite rich in its content and has a great deal to offer to its viewers. People become ignorant of their daily life problems and get refreshed. There are a number of cinema halls in the city where you can enjoy the new releases. Namely PVR, Mangal Adlabs, INOX, Velocity, Man Mandir, Madhumilan, Neel kamal, Alka etc.
Malls:
Malls are the hottest trends in cities today. Apart from being exotic shopping destinations, they are emerging out to be one of the major hang out places of the city crowd. Malls provide a comprehensive package to the people, wherein they can shop, eat and enjoy at the same place. The motto is: everything under one roof. Indore is also host to many such malls, which provide variety and comfort to the visitors. Treasure Island is the largest, with 5 floors and 245 stores. It is the most popular mall around and is located in the heart of the city. There are also other malls namely Mangal City mall, Indore mall, Orbit mall, Salaasar market etc.
Indore Art and Craft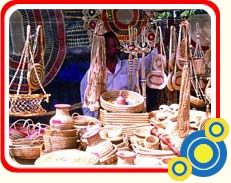 Indore is the commercial capital of the largest state in the country, Madhya Pradesh. It is known for its magnificent monuments, exuberant festivity and blissful solitude. Apart from this, Indore also boasts of a fairly good arts and crafts industry, which has a charm of its own. It exhibits hereditary skills, painstaking craftsmanship and evokes a desire to learn more about the land. The art and craft of Indore are influenced by the neighboring states, but at the same time, they have developed their own distinctive style and individuality.
Jute Industry:
Besides cotton, Jute is the cheapest and most important of all textile fibers. It is used on a large scale in the manufacturing of different types of packaging material for agricultural and industrial products in Indore. Jute has a coarse character, natural color and heavy texture. It exhibits an earthiness which has a unique charm of its own. Jute handicrafts available at Indore includes items like hanging lamps, baskets, flower vases, swings, hammocks, purses, table mats, footwear etc.
Indore Festivals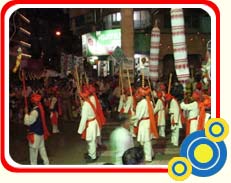 Owing to its rich cultural background, Indore Festivals are celebrated with great zest and are one of the main attractions of the city. Though growing westernization has been a reason behind the celebration of events like Valentine's Day, Friendship Day and New Year's Eve, Indore has not lost its traditional values. The city still celebrates a host of traditional festivals which originated centuries back. All national festivals, like Diwali, Holi, Eid-ul-Fitr and Rakhi, are also celebrated in Indore with the same enthusiasm as in the other parts of Madhya Pradesh as well as India.
Rangapanchami:
Rangapanchami is celebrated five days after Dulendi or Holi, but it is not the usual Holi colors that paint the atmosphere around, rather it is the color of music that fills the air. Indore has its own style of celebrating Rang Panchami. Here, it is celebrated like Dulendi, but colors are mixed with water and then poured on others. On the event of the festival, the local municipal corporation sprinkles color mixed water on the main streets of old Indore. Earlier, they used Fire Brigade vehicles for this purpose. It is an age old festival, which was celebrated during the Holkar reign and continues to be celebrated till date.
Anant Chaudas:
Anant Chaudas is celebrated around the month of September. On the night of Anant Chaudas, large processions are taken out and huge idols of Lord Ganesha are immersed in water. The festival is celebrated with great enthusiasm by the people.
Ahilya Utsav:
Ahilya Utsav is an annual festival celebrated in Indore. It is celebrated to commemorate the death anniversary of Rani Ahilya Bai, the brave queen of Indore.
Bars In Indore:
With contemporary decor and some innovative cocktails, there are many bars in Indore, ready to welcome you with a surprise! Too many, and yes, to many outsiders have a misconception that when it comes to a rocking nightlife, Indore lags pretty much behind as compared to the other cities and trust us; you are Wrong! Just to prove how much we are right, all you have to do is to go to the nightlife in Indore section of Indore HD and see by yourself the plethora of options Indore has in store for you! The mouth of a perfectly happy man is filled with beer and indeed from the best bars, if in Indore. Find out who serves what, the finest, the latest, the oldest, the most elite, and the costliest wines in Indore here.
Pubs & Lounge In Indore:
Currently in vogue with the younger crowd, the pubs and lounges in the city are the best place to be, if you are looking out for a really amazing time at night. They have ample indoor and outdoor seating and the indoor turns into a crowded dance floor on weekends. The best cuisine, the finest gourmet, the delicious food, get them all at Indore HD with the most visited and the unexplored restaurants of the city. Discover happy hours, swing through the best drinks when non-stop music finds your way to euphoria with Indore HD.
Midnight Food In Indore:
This title has the word 'food' in it, right? Well, that's the start and end of it. Indore and Food go hand in hand and be it any part of the day. You can be sure to have amazing food on Indore's street, no matter what the time is. Indore always has been known for the street food and when the night falls, Indore comes on its own with several other food options that you will not ever going to find at the day time. So, if you are someone new in Indore, we would suggest you to explore this city at night time and surprise yourself! With Indore HD to help you with every bit of information that you want on the food destination that emerge in night, you can be sure to find the tastiest street food in Indore with us.